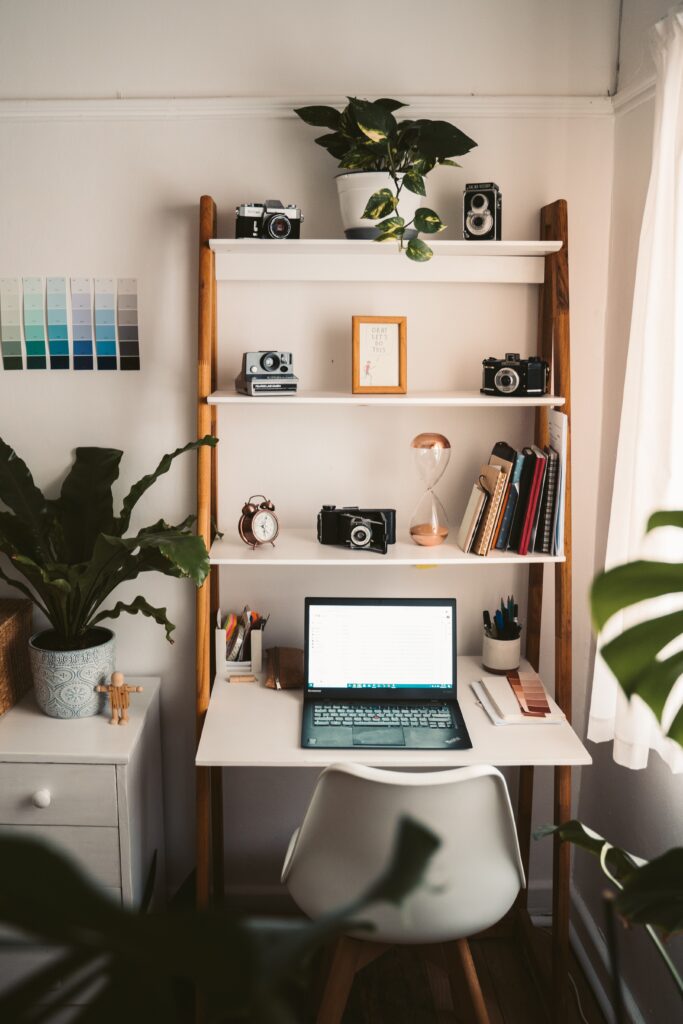 Nowadays, hundreds and thousands of people are performing work from home most of the time, if not, all the time!

Having a beautiful home office, brings an extremely good mood which will inevitably bring thousands of amazing ideas as well as have the effect of achieving twice the result with half the effort.

So how to make home office more inviting?May we have a look at the several different styles of decoration methods to achieve the ideal home office environment.
1. Creative Decor Items to Make Artistic Home Office
The home office decoration can also be creative, because a creative space is more conducive to inspiring greatness in your work.

First of all, I suggest a creative space layout, using irregular shaped area rugs or green carpet to divide the work area, making it simple and clear.

Secondly, the combination of fashionable and characteristic low-foot workbenches, tatami chairs, sofa beds and other creative furniture are also able to easily create a creatively inspired work space.

In addition to all which have been stated, the creative design of large-area glass windows is able to be used for making the lighting effect which beatifies the home office space.

In an alternative way, you may apply a 3D window view scenery wall sticker in case your home office setting is at a corner without windows.

When creative decoration designs extend to the storage space, it needs to be practical, because office storage plays an incredibly important role to the home office.

Storage cabinets are a great helper for this situation, and the choice of storage cabinets should definitely match the creative decoration style of the overall space.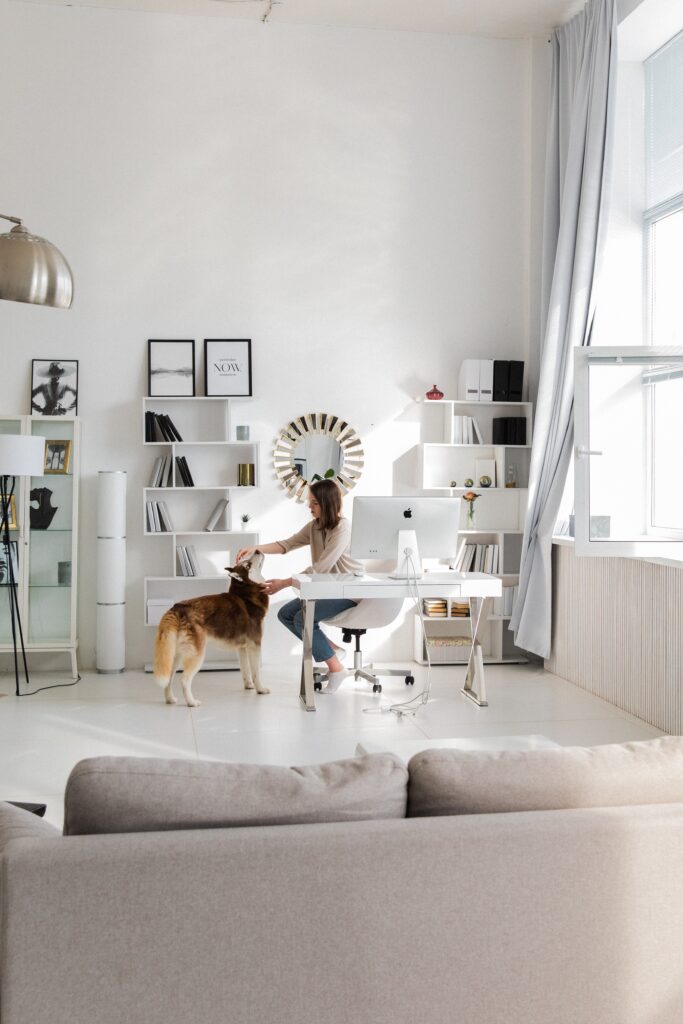 Among all, choosing a freely combined storage cabinet, allowing you to play freely, will stimulate your creative inspiration well, and create a creative storage space through collocation and combination.

In case there is limited space in your home office to place a storage cabinet, you may consider to have a multi-function desktop organizer.

The home office shown beside is mainly white and simple tones, which allows the space of the room to be more spacious and brighter.
You may have faux fur office chair or simply put a piece of faux fur chair cover to make your home office looks more charming by adding perfect accent to your working area.
2. Nordic Style Decoration to Create a Small Inviting Home Office
The home office pays much attention to the comfort and practicality, and does not need to be overly fancy with the extensive decoration. You can choose a simple Nordic decoration style to create a clean and convenient working environment in order to improve your work efficiency.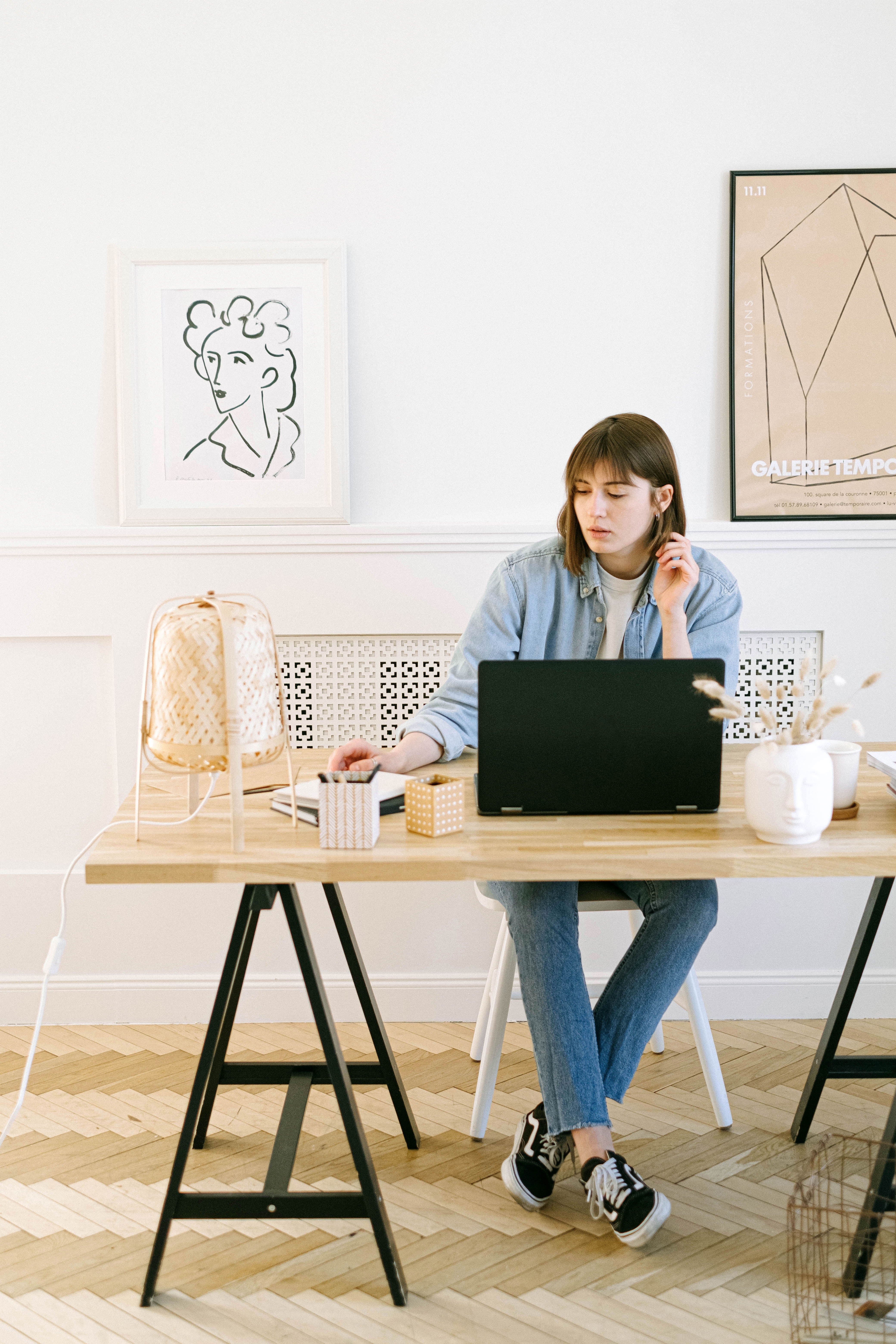 You can choose a simple Nordic decoration style to create a clean and convenient working environment in order to improve your work efficiency.

A workbench, a computer, a large bookcase with necessary lamps and lanterns, simple combination and matching. With all combined, you can easily create a small and fresh style of practical home office.

The solid wood workbench is a better choice, with the simple lines, it will be able to express the simplicity and capability of its style to the fullest.

The clear and natural wood grain of the desktop will bring a calm mood and work a lot more at ease.

In addition to the desk lamp and computer, you also are able to put some lovely photos on the desk to relieve work pressure, but the rest of the decoration should not be over the top. The most important is to keep the desk tidy at all times.
3. Stylish Accessories Sets Up a Fun Yet Inviting Home Office
Are you tired of the serious and rigid work environment? Let the home office come with a happy, lovely and fun design, which allows the stimulation of enthusiasm in work.

For example, having some amazing accessories such as an imitate water fountain mini set or a stylish 3 tier pot stand for green plants on your working desk.

You can also choose to put your favorite cartoons or other interesting picture frames. Those who are "necessary pen holders" in the office may wish to have a DIY pen holder, or the office supply holder with design of a man sitting on toilet, which both includes personal liking and practicality.

In addition, clever use of color matching is also a good way to break the single tone of the space, which can enliven the working atmosphere.

An interesting home office should be thought of in every detail in the space, so the decoration of the desktop should also combine in a fun and practical manner.