Here are a few simple things to do to decorate your outdoor space and create a spooky Halloween ambience.
1. Lawn Decorations for Halloween
If you own a lawn and want it to add a Halloween atmosphere, then you can use many varies scary elements to decorate the appearance of your home.

Take into consideration that the lawn sets the tone for the rest of the home, so if it is creepy enough, everyone will also wonder what else you have set up on the inside. Here are some simple ways to decorate your lawn:
Cover the ground with fallen leaves that will break when stepped on it. If you don't have a lot of fallen leaves on your lawn, don't use a rake to sweep the lawn when Halloween is approaching, and just like that you're making the most of what you have.
Take a pair or two of old boots and let them show through fallen leaves or spider web. Don't forget to have giant spider props around it for creating dramatic set-up that full with spooky ambience. It looks like there is a dead body on your lawn if you display skeleton head fake skull prop nearby the boots.
Don't underestimate the frightening effect a scarecrow can pull off. You can buy a special Halloween scarecrow, or you can use a normal fall corn husk scarecrow and paint it in such a way that it looks like blood.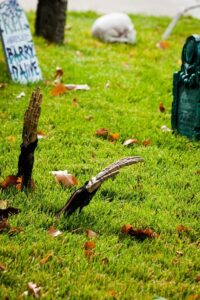 Display a few headstones on the ground. The theme of Halloween is around those old, dim, dirty, and broken things, so your lawn doesn't have to be neatly organized.

Let there be pieces of tombstone scattered everywhere! Let a piece of a tombstone stand over here, and another over there, and even one that is completely distorted or overturned!
Throw some skeletal skulls on the ground, or Stick the bones of hands into the ground.
Let a ghost suddenly appear outside your yard. Wondering how to do it? Easy! Just install a Halloween light show projector in your lawn then you are done. You'll see ghosts, bats and some other Halloween iconic symbols appear during night time.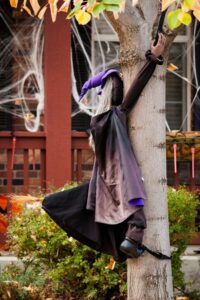 If you have trees on your lawn, you can wrap them with spider webs. If you can hang some scary little creatures on it, or put a specimen of an owl or crow on the lower branch.

You can use old clothes and hang them on a tree in such a way that it looks like a witch hanging on a tree. Maybe as if the witch flew and collided into the tree. If the art of D.I.Y is too much work for you, you can always consider to buy a life size witch Halloween prop.

Better still, the skeleton with a witch hat and broomstick Halloween prop is available. You can have both the skeleton and witch at once. It would be the icing on the cake.
If you are determined to dress up for Halloween, park your car on the lawn. Draw cracks on the car windows to make them look like they are broken, and then you can put a doll in the car. Together with the aesthetically broken window, it will look like a person is trapped inside.
2. Halloween Decoration Ideas for your Front Porch
The porch is the entrance to all the indoor horror elements, so it should look as horrible as possible, so it will for sure lure some uninvited guests (or victims) into your horror house. Here are some great ways to add a Halloween atmosphere to your porch: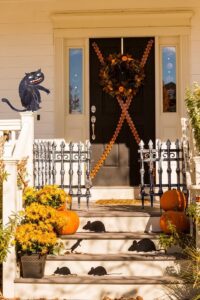 The silhouette of one or two black cats will enhance the horror effect even more.
Putting some old mice on the ground can also make the scene more realistic.
Some pumpkins can add the finishing touch to the porch. You can carve them into ghost shapes, or paint them in black, silver, or even make them glow.
Putting a bucket of dead white flowers on the porch is the cherry on top.
Put more spider webs on the porch. Your guests may be trapped by them unknowingly.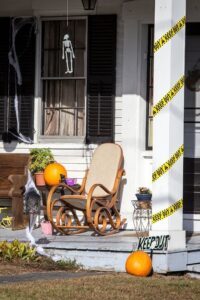 Hang a ghost on the porch. All you need to do is cut a few holes in an old sheet and throw it on the beach ball hanging from the ceiling.

If you would like to boost up the horror effect, you can always replace a simple ghost prop to a hanging head animated prop.
3. Decorate your Front Door and Windows for Halloween
Doors and windows are the eyes and mouths of a family's Halloween core soul, so you need to make the most of them. Adding a few supernatural strokes to the front door and windows will make your house look more haunted. Here are some ways to do so:
Sprinkle some fake blood on the front door. But make sure they are easy to remove.
If you really plan to go all out for Halloween, you can make your windows look like they are sealed, and you can use cloth tape to stick some thin wooden beams on the window glass. This will make your house look like it is abandoned, and therefore even more weird.

Alternatively, you can have blue monster face with sharp teeth stick on top of your front door. This Halloween accessory creates an illusion as if a monster has its mouth wide open, waiting for any victim.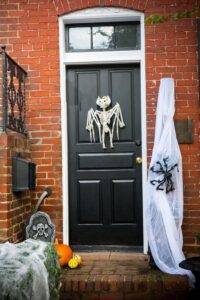 To fill up the space, you may have a tombstone and pumpkin on floor just like the picture shown.
Wrap an old mannequin in a regular black or red dress. Support it in front of a conspicuous window, preferably a second-story window or a loft window, if your conditions are met. Hit the model from bottom to top with flash to create a ghost effect.

Is it too troublesome to decorate in such a way? Well, you may mount a giggle clown peeper animated Halloween prop to the outside of any window. The horror effect as same as the terrible ghost prop.