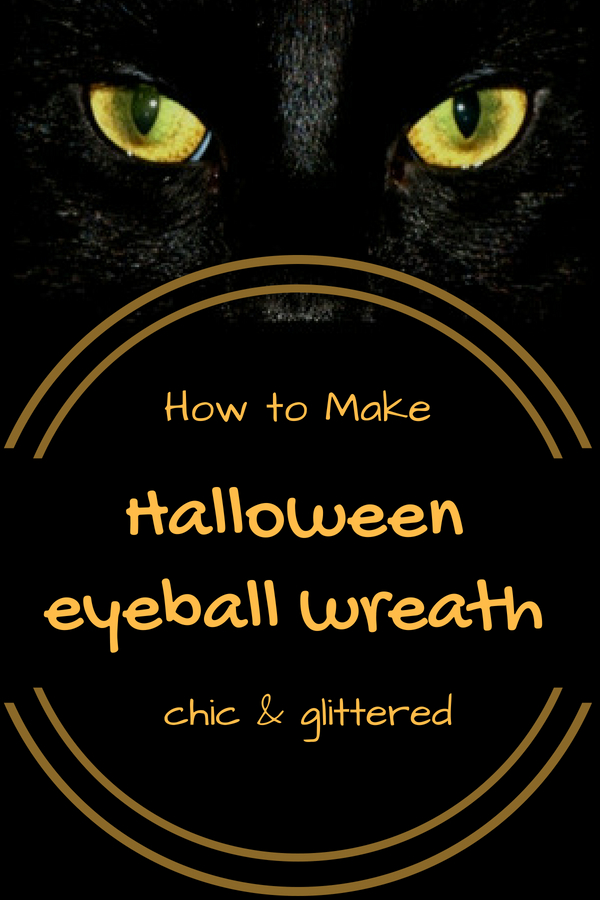 It's such a great holiday for crafts and I can't wait to share this craft idea with those who are interested in how to make a glittered Halloween eyeball wreath.
You may feel scary like my son when he saw at the props with bloodshot nature for the first time. The lifelike meticulous radial veins make him screams "monster". He said he doesn't want something always staring at when he reaches home.
But the finished craft is not as creepy as my son imagined. Instead, its black and orange colors bring out the cheerful of the holiday.
I am getting inspiration from the video below. It is easy to craft but there are quite a lot of things to prepare before I kick off the project.
Supplies Needed
Fine arts and crafts glitter dust

Halloween eyeballs props that features meticulous radial veins in the eyeballs

Ping Pong size Styrofoam balls (double the quantity of eyeballs props)
Any plastic bag or plastic tablecloth
Wire hanger or cut out a circle shape cardboard
Estimated 12 yards black color prickly garland
Stationery includes tape, white glue, acrylic paint, and paintbrushes
Hot glue gun and sticks
Bamboo skewers sticks and thick Styrofoam for poke sticks into it
Step by Step Instructions
1. Make the wreath round base by using a wire hanger. Shape it in round shape then wrap it with 6 ~ 7 layers of plastic bag.

2. Color Styrofoam balls and apply crafts glitter dust.

3. Wrap the last layer of the round base with a black color plastic bag and then put on the garland.

4. Randomly stick props and Styrofoam balls onto the wreath.

5. Wrap hanger hook with black electrical tape and it's ready to hang on your front door.
Honestly, my finished craft looks a bit different from the video one. I personally love to have a black color pair with orange color when coming to decoration for this festival.
Thus, I only applied orange fine glitter to the Styrofoam balls. And I also choose props that will glow in the dark and skip the step of applying glitter on the props.
If you are too busy with your work and have no free time for the craft project, why not grab one from those
Halloween wreaths for front door
to bring holiday excitement during October?