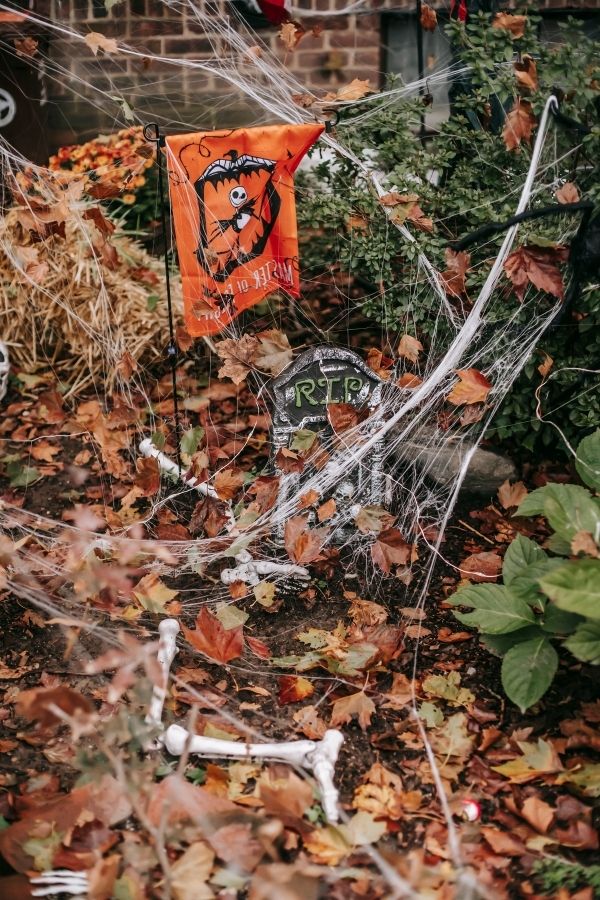 If you own a lawn and would like to display some whimsical items for creating Halloween atmosphere, there are plenty of props you can apply to get the effect you want.
The lawn sets the theme of your home including indoor decoration. If it's interesting enough, your guests even wonder what else you've set up for the rest of area.
Here are some easy ways to decorate your lawn. First of all, you can utilize zero costs items that you can find in your house. For example, fallen leaves. When Halloween is around the corner, collect as many as fallen leaves as you can.
If you have old boots that you no more wearing, put it at your lawn then cover it with fallen leaves. Instead of fully cover the boots, emerge part of it to create a spooky scene that there is a deed body in your front yard.
To make the scene creepier, you may consider to apply an animated prop nearby such as the following hanging spider with cocoon. It comes with a build-in sound sensor that will be activated its flashing red eyes while making spooky sound.
They are flexible props. You can adjust the jaw of the skull to show the grin. The skeleton arm also can be adjusted to any attacking posture according to the stakes. You can display the crow on top of the skull or moving its feet up and down to fix in any other places you want. The spider's feet also bendable to fit your decoration and they are working well even in wind and rain.
Anyhow, you can always purchase a scarecrow prop if you cannot find corn stalks for DIY. You may pick the one comes with stick so that you can simply insert it into the ground of lawn to complete the decoration.
life size mermaid skeleton Halloween prop
. It is the perfect addition to to create a spooky atmosphere.