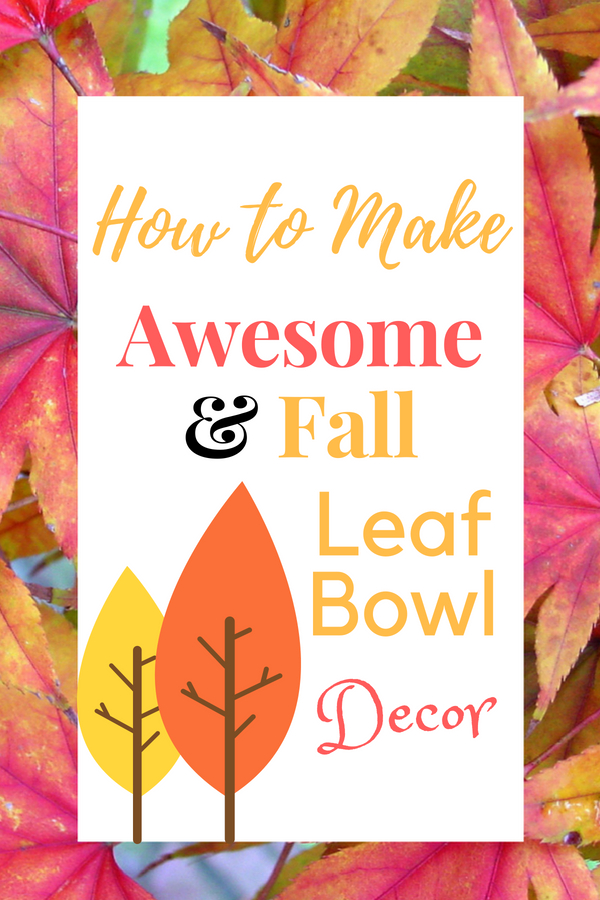 I'm really excited about the artwork I finished doing it and I can't wait to share with you on how to make some awesome fall leaf bowl decor.
I am addicted to this particular artwork. So far I've done six of them and every single one of them looks unique and compelling. They are a very nice piece of decoration item and it fits my kitchen with an autumn theme.
I place all six of my leaf bowls on top of the
fall table runner
which I bought a couple of days ago. The table runner has orange leaves that make it match perfectly with this artwork.
Supplies Needed
Air drying clay

Acrylics paint

Leaves with detailed grooves

A bowl

A knife or art blade

Plastic or PVC food wrap film

Wood rolling pin
Step by Step Instructions
1. Walk around to collect pretty leaves which comes with details grooves

2. Take some clay and roll it flat with a rolling pin

3. Add some clay to ensure the thickness has at least 0.5cm and the surface is bigger than the collected leaf

4. Put the collected leaf on top of clay and roll it

5. Use the blade to cut extra clay to make the clay in collected leaf shape

6. Take away the collected leaf and you will see your clay in leaf shape now

7. Using a blade to cut clay a little bit by a little bit following the shape of the leaf to have a neat edge

8. Lifting up the clay leaf from the table

9. Prepare a bowl and place plastic in it

10. Put the clay leaf into the blow and squish it and make a bowl shape

11. Painting with red and yellow colors after drying it for two days
The challenge of this artwork is that it is hard to judge how much amount of clay is enough to complete this decoration item. It has a big impact on the thickness of the left bowl. If there is not enough amount of clay, we might have a fragile leaf bowl in the end.
The second challenge is the moment when I am lifting up the clay leaf from the table. I have to be very careful to avoid any distort on the leaf shape and smudge any of the details.
Being said that, I do enjoy doing the artwork. The part that I enjoyed the most is putting the clay leaf inside a real bowl and squishes it into a bowl shape. I bet you that you will be as addicted as me after you make one of this and receive lots of compliments from your friends.