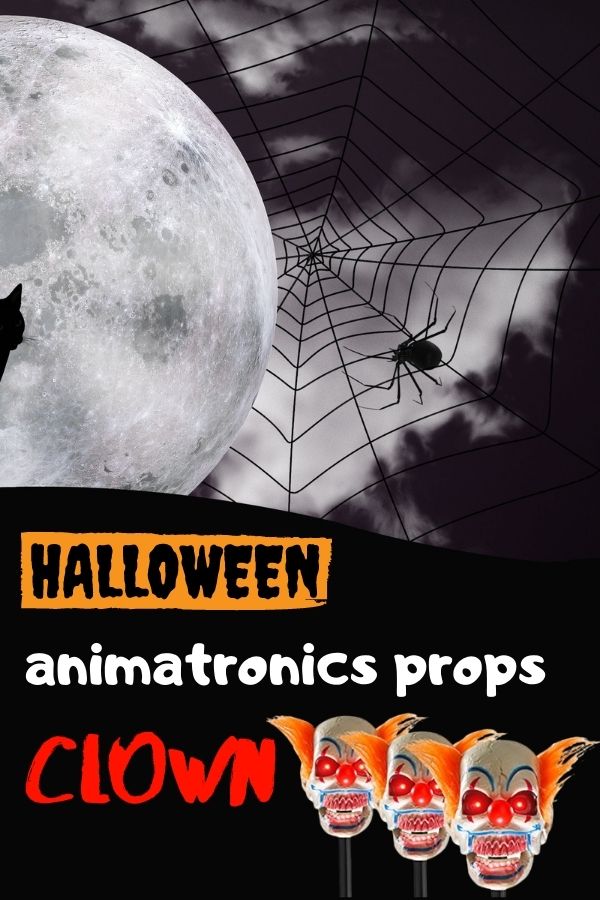 Ready to turn your home into a house of horrors? These are five coolest Halloween animatronics props with clown design that you can't miss out. From life-size to doll size, from standing to hanging to stake into the ground,there is one suit for your haunter house needs or party decoration.
As their name implies, they will make creepy, twitching motions and sounds once activated by motion or sound. Almost all of them come with creepy look except the third one. Being said that, it still manages to create spooky atmosphere with some spine-tingling saying.
Without further delay, let's scroll down and pick one to create your own horror scene either indoor or outdoor for welcome your guests.
Guess what will happen once it being activated? This creepy jester will start moving its head, clawed hands and arms while flashing its red eyes as if out to get you! Not only that, it also scare people with its eerie laugh.
Left head: "Gimme that!"
Right head: "Let go!"
Left head: "It's mine!"
Right head: "Get your own!"
The conversation stops while the girl inside the ice cream scope is screaming.
Left head: "What's wrong little girl? Don't you like ice cream?"
Right head: "Everybody likes ice cream."
Left head: "This one's mine! You can have the next one!"
Right head: "Forget it! I'm not falling for that again!"
Left head: "Fine. We'll share."
Their conversation makes the girl screams again. So now you know why this one is not the ideal pick for indoor decoration if you have toddlers at home.
Yes, its emerges to tell fortunes to people who passing by. However no one like to listen because this is what he says:
"Hey, you look familiar. Maybe because I've been hiding under your bed!"
"Good, run away. I'll catch up with you later in your nightmares!"
"Oh, did I scare you? Good. You taste much better when youre scared."
Once it being activated by touch or sound, this joker starts light up his eyes and having motion that definitely can scare any trick-or-treaters if you hang it at your front door. Those unsuspecting passersby will surely jump from fright especially during night time.
life size Halloween props
but it manages to create an unsettling atmosphere to put your guests on edge with its menacing moving mouths startle and the piercing LED eyes.
Whenever someone passes by him, he will move his head and arms while making some strange noises that make people spine-tingling. It's fairly loud and you may display it in a variety of evil and spooky ways.
They also can be an ornament surrounding a
life size coffin prop
for completing your Halloween outdoor decoration.