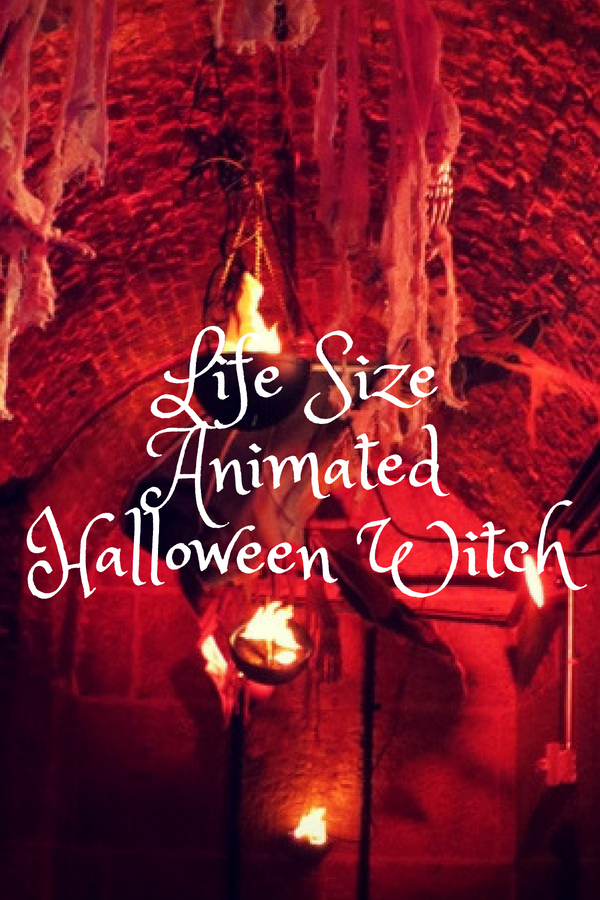 You'll never go wrong by choosing the best life-size animated Halloween witch as it is one of iconic symbols that represents Misfortune or Evil.
The stereotype of Sorceress is she has a very tall hat and loves to create spells. Anyhow the shortlisted ones come with different designs. They have no pointed hat (except for the second one). Their hand either holding a broomstick, an apple, or food dish.
They definitely would boost up the spooky ambience with their scary look especially the one stew brew witch and child. It is suggested to choose other options if you're having a party for kids.
Instead of holding a skull or a book full of casting spells, she is holding a broomstick and always keeps her smile face. Anyhow, she will scary you by turning her body back and forth along with her broomstick when she speaks 3 phrases with a cackling laugh.
In case you would like to add a touch of the fairy story in your spooky decoration, you definitely will like the following one.
She is ready to stand at your front door to welcome little trick or treaters. Although she is smiling, you'll feel spine-chilling by looking at her ugly face with flashing eyes and listening to creepy sentences that come out from her mouth.
I know this may not satisfy you if you wanna create the most nerve-racking scene in the haunted house. Hang on! Scroll down to see the one below.
You'll hear scream sound from the toddler that creating a dangerous element to the scene and makes people feel tense. I know it is hard to imagine the scary scenario via text description.
No better than watch it and feel it. Here you are.
This evil enchantress is so happy to have a toddler as her meal. She keeps turning head and torso while saying "You will make a tasty meal" and some other sentences that make people blood-curdling.
The fog will begin to swirl in the cauldron when it been activated and this boosts the terrifying level.
Having a concern that the evil enchantress with stew brew is not kids friendly and so it is not suitable to be displayed at a party? Well, take the following prop into consideration.
This sorceress is bringing a red color sack for her potions. Look at the above picture and you'll be noticed that she hangs it off of the rope belt that tied around her waist.
The green light from her book illuminating her face when it is activated by plug in the UL power adapter. She is then casting one of three wicked spelling with light-up eyes.
This prop actually is quite vivid. You'll hear clear spell speaking and you can adjust her volume to the level you like. She will looks more attractive if you partner her with a
black cat Halloween prop
.
Did you wonder which large lively prop that my neighbor finally pick? Scroll down and you'll see the one comes with extra function on top of the decoration.
Alternatively, you can place
Halloween scary body parts
on the dish for increasing the terrifying level.
Although she is not as tall as other sorceresses on this page, she is the only one can be hung by a rope. Her eyes are shining and her chin simulates a real person the action of speaking.
There are
large lively props
other than evil enchantress. Click the link to explore more to complete your haunted house decoration.